Services for Architects
---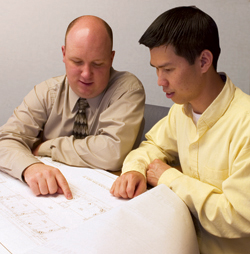 Trussbilt has worked closely with architects since 1926 and has come to understand their unique needs. Working as a team, many successful projects have been designed and delivered.
We have the experience and resources to provide the right design assistance for your project. Specifications are available for our products in Word or PDF format, test results are posted, and CAD drawings can be downloaded. And, Trussbilt can provide REVIT drawings to build into your BIM model. Trussbilt also offers a free online continuing education class "Detention Design and Construction with Truss-reinforced Steel Panels" that offers one AIA Health, Safety and Welfare Design (HSW) hour.
To help you pitch your ideas, Trussbilt has mobile full-scale mockups that bridge the gap between drawings and reality. We also provide corner samples of doors, frames, wall panels, and ceilings.
Have an idea for a new product or an improvement to an existing product? Contact us and we'll build a prototype. Much of Trussbilt's new product development success is because of your ideas.
If you haven't already done so, you can fill out an access request form on our website and get all the product documents you may need for your specs. Once you're approved, we'll send you an e-mail when any document you have downloaded has changed, and we'll put you on our distribution list for a periodic architect newsletter that highlights projects and discusses matters of concern in the architectural community, such as fire ratings for our products.
Contact Us today to learn how we can help make your project a success.