Retrofit
---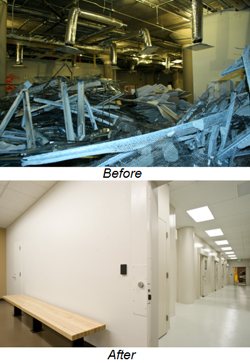 Owners are increasingly challenged with the need to increase jail capacity, but many lack the time or funding to construct a new facility. There's a low cost solution to this challenge: retrofitting an existing facility.
A wide variety of buildings can be retrofitted for detention use. For example, Trussbilt products have been used for converting a former Kmart facility into a jail and for converting a courthouse basement into a holding area (see images). Our TrussWall® steel panel cell system has been used in hundreds of retrofits around the world.
Architects highly value the flexibility and adaptability of steel wall panels. Unlike cement cell solutions, the TrussWall® cell system can accommodate any design variations required. And, since the panels are de-mountable, the building can easily be converted for a different use in the future, making for a facility that not only solves today's needs but also one that can adapt to future new requirements.
Buildings that are candidates for conversion often lack the structural support required for cement cell walls, which weigh about 120 lbs. per square foot. This is where TrussWall® has a clear advantage, weighing in at 32 lbs. per square foot when grout-filled, or 12 lbs. when unfilled. Additional structural reinforcement is generally not necessary when using steel panels, whereas cement solutions require extra reinforcement to support their significant weight.
Concrete and steel modules require an unenclosed building so they can be lifted in by crane. TrussWall® panels are so light and small that panels can be carried in through the front door of the building. When used with other Trussbilt products, owners can install a complete security perimeter inside an existing building (see diagram below) with the current roof in place.
Trussbilt has the products and experience that can help your project run smoothly. Contact Us today to see how easy it is to retrofit a building into a detention facility.