Featured Project: Governor George Deukmejian Courthouse, Long Beach, CA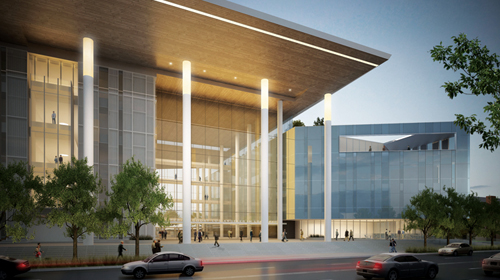 The Challenge: The City of Long Beach, CA sought a way to finance a badly needed courthouse project with limited city funds. In addition, the City wanted to maximize use of space and reduce long-term maintenance costs.

The Solution: The project was delivered with a Performance Based Infrastructure. A consortium of AECOM, Clark Construction and Johnson Controls provided financing, construction and a 30-year maintenance agreement. It was the first major civic building in the US to be built with such a public-private partnership (PPP). The public building also houses private retail space to offset costs. The 531,000 square foot facility, which opened in September 2013, contains 31 courtrooms and 160 holding cells.

Trussbilt's TrussWall® cell system was selected because of its light weight and ability to deliver savings in long-term maintenance costs. Specifically:
The lightweight 2" thick TrussWall® cell system saved square footage while reducing structural costs, particularly on upper cell complexes.

The system provides a higher level of security than concrete approaches.

Its sound transmission qualities help prevent holding area noise from reaching courtrooms.

Many non-cell walls were designed using TrussWall® to increase room size.
The system delivers long-term maintenance savings, a key factor in selecting TrussWall®.
---
Trussbilt Introduces Innovative Lock Pocket Designs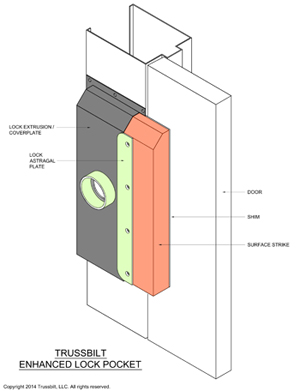 Trussbilt recently introduced two new lock pocket designs in response to customer needs for increased security and a more efficient and flexible installation process.

Trussbilt's new Enhanced Lock Pocket is designed to prevent inmate "sheeting" efforts, in which an inmate inserts a piece of bedding material between the door and frame and works it up to the lock bolt, forcing the bolt to retract. The design uses an offset jamb mounted lock pocket and door strike which overlaps the frame face, with an additional lock astragal plate to further block access to the lock bolt.

Trussbilt's Universal Lock Pocket will accommodate any jamb mounted 120 series-type lock on the market. This means that doors and frames can be manufactured and installed before the lock manufacturer is chosen, allowing frames to be on the job site or available to the precaster earlier in the construction process, eliminating the usual lag time. In addition, future lock retrofits can be made without replacing the door and frame.
For further information, contact Brad Schotzko
---
Featured Courthouse Projects
Trussbilt's TrussWall® Cell System is used in a variety of courthouse projects, including new construction and renovation of existing non-detention spaces. Here is a sampling of those projects:
F

acility Name

City
State
Type of Project
Qty of Cells

B.F. Sisk Courthouse

Fresno

CA

State

28

Governor George Deukmejian Courthouse

Long Beach

CA

State

160

Denver Justice Center and Courthouse

Denver

CO

County

392

O.C. Fisher Federal Building

San Angelo

TX

Federal

11

Orange Courthouse

Orange

MA

Federal

9

Dickenson County Courthouse

Spirit Lake

IA

County

13

B.H. Whipple Federal Building

St. Paul

MN

Federal

47

Thomas Foley Courthouse

Spokane

WA

Federal

24

Judge Steve Herrera Judicial Complex

Santa Fe

NM

Federal

12

Teton County Courthouse

Driggs

ID

County

4
---
Trusslink

Contact Us

Trussbilt has designed and manufactured quality detention products for more than 85 years. TrussLink will provide educational information for correctional design professionals, including industry best practices and real-world case studies. Our goal is to help you design the most cost-effective, flexible and adaptable correctional facilities possible.

To subscribe to this newsletter, CLICK HERE.

Trussbilt
550 Oak Grove Parkway
Vadnais Heights, MN 55127-8509
651-633-6100
info@trussbilt.com