TrussCore
---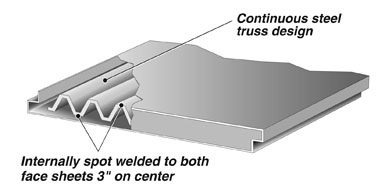 Trussbilt's door, wall, and ceiling products utilize Trussbilt's unique TrussCore® design, resulting in durability and strength unmatched by any other manufacturer.
Our TrussCore® design is analogous to the structural strength derived from an I-beam. Its inner reinforcing structure is like an I-beam's inner web, holding the primary strength members in proper position and orientation. In our unique welding process, Trussbilt doors and wall panels are welded every three inches, vertically and horizontally, linking the surfaces in a single welded structure. TrussCore® provides superior protection against delamination, bowing, and bulging, providing strength that is unmatched in the industry.
The complete brochures on Trussbilt's TrussDek® and TrussWall® systems are available as pdf files, as are specifications, test results and CAD drawings. Click here to go to our Resources page. Trussbilt's products require expert advice and installation based upon the particular characteristics of your facility. Our consultants and sales specialists will calculate quantities and prices based upon the particular needs of your project. Please contact our sales and technical specialists at 1-651-633-6100 for ordering information. You may contact Brad Schotzko, VP – Estimating & Engineering, at 651.633.6100, or bschotzko@trussbilt.com, for more specific information.